In this episode I'm chatting with Carrie Jo Bradley, personal trainer and health coach on shifting our focus to fitness and improving athletic performance. As a health coach who works with mostly women, she understands that setting and achieving goals that revolve around getting faster, stronger, or simply doing more than you thought possible, can have amazing impact in all areas of our lives.
Inside the Episode:
01:32 – What to do for fun when you live in the middle of nowhere
02:35 – What lit a fire in Carrie to improve as an athlete
03:45 – Setting the goal to complete her first half marathon
04:42 – She didn't win… did she??
05:02 – What this newfound confidence meant to her
08:58 – Becoming a health coach
09:57 – The difference between leading classes and working 1:1 with clients
11:18 – "Behind every behavior is a belief"
12:40 – Carrie's process to help clients set SMART goals
13:10 – If anything was possible, what would you want to do?
13:30 – #1: See it and create a vision
18:27 – #2 Believe it (assume the identity)
21:16 – Silencing your inner critic
22:11 – "I'm good enough, I'm smart enough, and GOSH DARN IT…"
22:28 – Strike a power pose!
23:26 – Where's that negativity coming from?
24:20 – The impact of removing the negative self-talk loop
25:20 – #3: Act Like it
26:08 – Taking baby steps is still moving forward
26:43 – The mental energy of decision making
27:36 – Create a habit but keep it fresh
31:32 – The Unplugged Run
32:58 – Carrie's 3 tips
33:03 – Use the power of pretend to believe in yourself
34:22 – Watch your fear-o-meter
35:15 – Uncover your Why
Episode Mentions:
Connect with Carrie:
Did you know you're 42% more likely to achieve your goals if you write them down? This free printable guides you through setting any kind of goal…the SMART way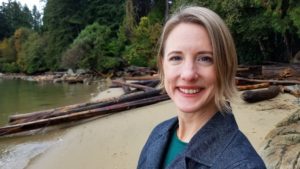 Carrie Jo Bradley is an ACE-certified health coach and group fitness instructor. She helps moms manage time and training so they can reach their athletic goals. Her journey from ordinary mom to #badathmother inspires Carrie to help other women believe bigger for themselves. Home base for adventures with her husband and two girls is Vancouver, British Columbia.