In this episode, I chat with Jennifer Stark, a certified holistic health and wellness coach with a background in professional one-on-one and couples counseling, personal training and group fitness instruction.
She helps her clients take a holistic look at their struggles—the blocks that keep them from experiencing happiness, vibrant health, and fulfilling love—and empower them to take action to reach their goals.
Resources: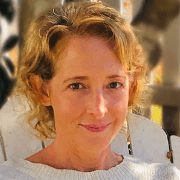 Jennifer Stark is a Life, Love and Wellness Coach. She believes implementing a holistic approach helps her clients reach a more optimal level of health—mentally, physically, emotionally and relationally—and tie all aspects of their lives together so that they experience more profound shifts and empowerment for lasting success.
Jennifer holds a Master of Science degree in Counseling Psychology and a Holistic Health Coach Certification from the International Association of Wellness Professionals.
Her supplemental certifications include Life Strategies Coaching and Stress Management Coaching from Spencer Institute, and Personal Training and various group fitness instruction certifications from FitTour.
After 18 years working as a counselor in public schools and family counseling centers and as a personal trainer and group fitness instructor in several gyms, Jennifer decided to move forward on her own and created Stark Wellness, a private coaching and consulting business. She works with clients remotely via WhatsApp, Skype or Google Meet sessions.